How to buy, sell and invest in gold
Learn more about gold and how you can start investing today.
Global stocks crashed in 2020 as a result of the unexpected coronavirus pandemic, and the historic volatility has led investors all over the world to seek safe places to put their money.
For centuries, gold has been a popular store of wealth. In turbulent times, you might notice people talking about gold as an investment. After the initial panic subsides, you often see the price of gold rising while other stocks are falling.
If you're interested in investing in gold, there are three main routes to do so:
What's in this guide?
Buy gold mining stocks
Gold ETFs
Buy solid gold
Compare providers for access to gold ETFs and more
How much is gold worth now?
Why is gold a "safe haven"?
Bottom line
Buy gold mining stocks
One option is to invest in gold mining firms. You can find some of the largest firms listed on the S&P 500, including Newmont Mining (NEM) and Freeport McMoRan (FCX). Many other miners — the smaller firms are call junior miners — are also widely available through normal brokerage accounts. Through investing in mining stocks, you're directly linking your capital to the success of these companies, and the changing value and price of gold.
While heavily correlated, the performance of gold mining stocks will not perfectly match the price of gold. Unlike the resource itself, companies are subject to a number of external factors such as employees going on strike, geo-political implications for the area, natural disasters and business decisions. In addition, because the cost of mining is often high, there's usually a price point where increases in the gold price can influence the profit margins for gold miners exponentially rather than linearly. For instance, if the cost of mining is $1,000 per ounce, then a 13% increase in the price of gold from $1,150 to $1,300 actually represents a 100% jump in profits for the gold miner.
Pros
You can pick and choose a range of stocks individually in your brokerage account, and cash out when you want.
Cons
Like any investment, mining stocks are not immune to risk.
Gold ETFs
ETFs are another option worth considering. ETFs give access to a whole load of assets without having to put all of your money into one or two firms.
Simply, ETFs allow investors to minimize risk while taking advantage of the performance and general popularity of a particular sector — in this case, gold.
There are several gold-based ETFs to choose from, covering a whole host of different companies within the industry. There are mining companies, exploration companies, as well as the actual asset itself. Gold ETFs are a pretty good choice for those who are new to investing, as well as those looking to secure their portfolio.
Pros
ETFs allow for instant diversification across the whole gold industry, at a low price.
Cons
By placing your money in an ETF, you are trusting your gold portfolio to a preselected list of companies, so you naturally relinquish some control over the split of assets.
Buy solid gold
For some people, part of the appeal of gold is being able to hold it. If you're one of those people, then the good news is that buying solid gold has never been easier. While you can buy gold directly from the US Mint, most investors do business with a local dealer or reputable online broker.
Gold is available in a variety of coins, ingots and bars as small as half an ounce and as large as 400 ounces. While the US Mint has produced numerous collectible gold coins in different themes, the standard gold bullion coin is called the Gold American Eagle. Other common gold coins include Canada's Gold Maple Leaf, South Africa's Gold Krugerrand, China's Gold Panda and Australia's Gold Kangaroo.
Pros
You have a tangible asset which is yours to hold, store or pass on to someone else.
Cons
You will need to factor in the cost of secure storage and insurance if you plan to build up a stockpile of gold. These costs will stack up over time, even if the value of your gold decreases.
Gold bars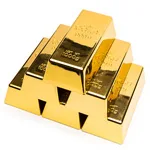 Gold bars generally range in size from 1/10 of an ounce to 1 kg (2.2 pounds), but there are also bars up to 500 ounces available. However, remember that precious metals use troy ounces and one troy ounce equals 31.1 grams.
There are two types of gold bars: cast bars and minted bars. Cast bars are produced by pouring molten gold into an ingot mold, while minted gold bars are manufactured via a minting or stamping process. Cast bars are cheaper to produce, but minted bars look better and are generally easier to sell.
Gold coins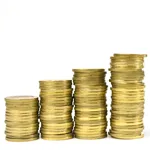 Mints around the world also produce gold bullion coins. Typically smaller than bars and ingots, they're generally considered to be a more convenient option for many investors. Not only are they cheaper to buy, but they also make it easier to liquidate a small portion of your investment when you need cash. Coins contain between 1/10 of an ounce and 1 ounce of pure gold.
These coins also have a nominal monetary value and can be accepted as legal tender in the country where they're made.
How much is gold worth now?
How to safely store gold
Once you've purchased your gold, you'll also need to find a safe place to store it. There are several options to consider, including the following:
Bullion dealers. Many gold dealers will also offer a storage service where you can keep your gold bars or coins for a fee, so ask about the storage options available when you make your purchase.
Safety deposit boxes. You can rent a safety deposit box at a bank to securely store your gold bullion.
Secure vault storage. For high-level security, you may want to research vault storage companies near you and the storage options they offer.
At home. You can also choose to store your gold at home. This obviously may not be as secure as some other options, so you may want to get a home safe installed. You'll also need to update your homeowner's insurance to make sure your precious metal is covered by your policy.
Why is gold a "safe haven"?
There are many reasons people view gold a safe haven for investors. For example:
Gold is a physical asset
It is not easily created or destroyed
It does not change (it is resistant to oxidation; gold looks the same hundreds of years from now)
It has cultural and historical value — gold predates modern currency and has always been seen as beautiful and special
Governments have turned to gold in times of financial crisis, which in itself adds to gold's stability
What is a safe haven?
A safe haven investment is typically stable in times of market volatility. A safe haven is also useful for investors looking to diversify their portfolio, decreasing exposure to riskier assets or investments.
Bottom line
If you're searching for ways to protect your wealth or diversify your investment portfolio, gold may be a practical solution.
But first do your research to make sure you know the costs of storage and security, as well as understand that returns may not match those provided by other investments. This will help you make an informed decision about whether buying gold is the right choice for you.
Disclaimer: The value of any investment can go up or down depending on news, trends and market conditions. We are not investment advisers, so do your own due diligence to understand the risks before you invest.
Original – Charlie Barton